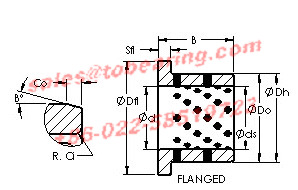 (dimensions in mm)
Bearing Type - flanged
Shaft Dia., Nominal (d) - 35.0000
Housing Bore Dia. (Dh) - 45 +0.025 / -0
Bearing Outside Diameter, Nominal(Do) - 45.000
Bearing Outside Diameter Tolerance (Do tol.) - 45 +0.025 / +0.009
Bearing Bore after Mounting (di) - 35 +0.050 / +0.025
Bearing Length, Nominal (B) - 40.000
Bearing Length Tolerance (B tol.) - -0.10 / -0.30
OD Chamfer Length (Co) - 2.000
ID Chamfer Angle (B deg.) - 15
ID Chamfer Length (Ci) - 1.200
Flange Dia. (Dfl pm 0.5) - 60.000
Material - Cast bronze with solid lubricant inserts.
This bearing can be used dry under certain conditions or with lubrication.
The recommended shaft diameter tolerance depends on the application load: High load = d8, Light load = e7, High load Precision accuracy = f7
Please review the technical information.
Additional material options are available in this series.